Through our Car-Life Support business, we deliver a variety of services based around the theme of contributing to local car-life and lifestyles. We offer comprehensive car-related services and products, such as our comprehensive car service Carlife Stadium, and various sales support products.
Carlife Stadium Rent-a-Car
Carlife Stadium Rent-a-Car offers nationwide services primarily at gas stations. Member registration is free, and members can rent vehicles at even better value prices by making reservations via the service website. Of course, reservations can also be made without completing member registration. The service aims to deliver better excursions by minimizing customer waiting times as much as possible.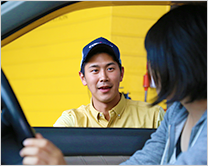 Developing the Carlife Stadium Brand Moving forward, we will integrate various car-related business brands that we have developed individually, in order to create a new service brand. We will clarify our vision of what we aim to become, and the values that we aim to provide to consumers, and deploy optimal (primarily web-based) promotion as we aim to create a brand that continues to be loved and chosen by local customers.