Expanding numbers of environmentally-friendly LPG cars and automotive gas stations as infrastructure to support them
The ITOCHU ENEX Group is promoting the widespread adoption of low-pollution LPG vehicles, utilizing the properties of LPG which is drawing attention as a form of clean energy. The ENEX Group has also established a nationwide chain of automotive gas stations—operated primarily by ENEX Group companies— as infrastructure for those vehicles, and boasts the top industry share.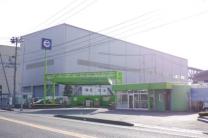 LPG Vehicles
LPG vehicles are environmentally friendly and offer excellent convenience

LPG vehicles has gained widespread use, primarily as taxies, due to low operating costs as a result of their high fuel economy. In recent years, they have gained attention due to their clean performance (low environmental impact) in terms of exhaust gases, and are becoming more widespread primarily in major cities as a clean energy alternative particularly to diesel-fueled vehicles, which are widely used as trucks.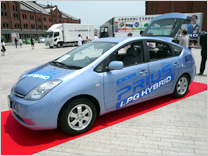 Environmental Performance
LPG vehicles perform as well as gasoline-fueled vehicles in terms of greenhouse gas emissions, submit low levels of NOx, and do not emit smoke/soot or particle matter (PM). LPG vehicle exhaust gases also contain no harmful substances (benzene and aldehydes.)

Driving Performance
In comparison with diesel vehicles, LPG vehicles produce low levels of vibration, noise and odor, and are well suited to driving in residential areas. Their output power is also improving, with the development of new engine technologies, etc.
Convenience
There are currently around 1,700 automotive gas stations located across Japan, and they are present in all regions where taxis operate. There is also a full lineup of vehicle types available, from light passenger cars to medium sized trucks and specialized vehicle types.
Economy
Because LPG is a clean fuel, the oil change cycle is long, which helps to reduce maintenance fees. Fuel costs are also low, and LPG vehicles compare favorably with diesel vehicles in terms of economy.
Positioning as environmentally-friendly vehicles
Certification under the Act on Promotion of Procurement of Eco-Friendly Goods and Services by the State and Other Entities (Act on Promoting Green Procurement)
In 2002, LPG vehicles became eligible under the Act on Promoting Green Procurement, and they are now clearly regarded as eco-friendly vehicles.
Eligibility under the green taxation system
LPG vehicles are eligible for tax reductions for road tax and vehicle purchase tax for high fuel economy vehicles with a certain level of exhaust gas performance (3-star certified).
Environmental performance comparison for low-emission gas vehicles
Source: Japan Automobile Manufacturers Association (JAMA) "The Japanese Automobile Industry 2002"

Environmental impact (exhaust gas)

Greenhouse gases

NOx

CO/HC

Soot/PM

CO2

CH4

N2O

Diesel vehicles

○

○

○

○

○

○

Gasoline vehicles

◎

○

☆

△

△

△

LPG vehicles

◎

○

☆

△

△

△

CNG vehicles

◎

○

○

○

○

▲
*Comparisons envisage typical vehicle usage. The standard criteria for comparison is diesel vehicles (○).
Inferior▲→△→○→◎→☆superior

Vehicle comparison for low-emission gas vehicles
Source: LPG Vehicle Promoting Association in Japan

Driving performance

Convenience

Economy

Vibration

Noise

Vehicle lineup

Number of gas stations

Continuous driving distance for a single fill

Fulling time per fill

Vehicle price

Running costs

Diesel vehicles

○

○

○

○

○

○

○

○

Gasoline vehicles

◎

◎

△

○

○

○

○

▲

LPG vehicles

◎

◎

△

△

○

○

▲

CNG vehicles

◎

◎

△

▲

▲

▲

▲

▲
*Comparisons envisage typical vehicle usage. The standard criteria for comparison is diesel vehicles (○).
Inferior▲→△→○→◎→☆superior